He is currently the fastest man in landkiting with a record speed of over 100 kph, meets Thierry Collado aka Akkrew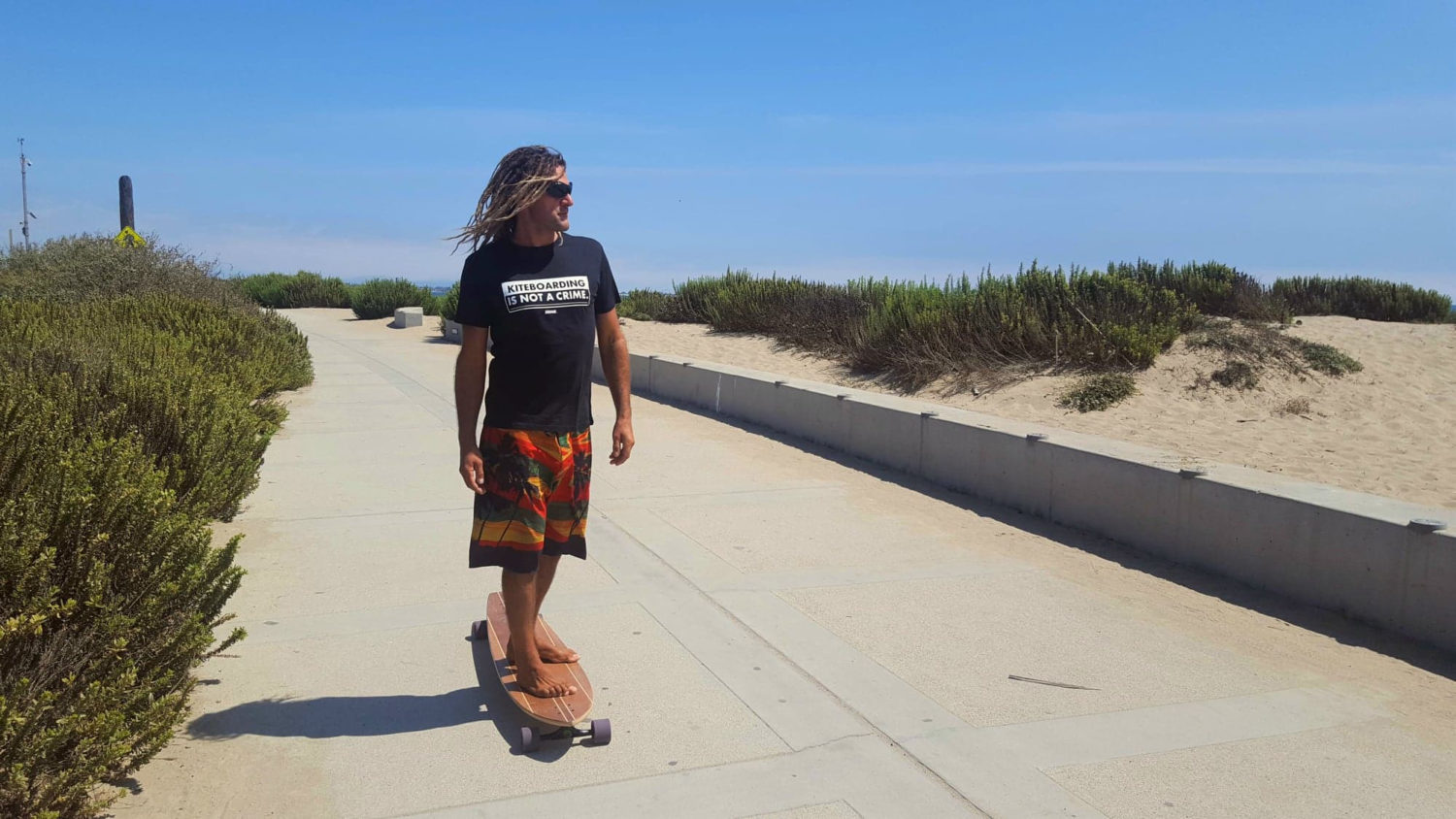 Hi Akkrew, can you introduce yourself quickly?
Hi Arnone, my name is Thierry Collado I am French and I live in the south of France in Montpellier.
When did you start kitesurfing and what attracted you to kitesurfing?
I started kiting in May 1999, it was landkiting and the practice was then very new, and it remained unknown for a few more years. I was immediately attracted by the power of the aircraft, the exhilaration and the feeling of freedom it could provide.
What do you like about kitesurfing and what is your practice (freeride, speed, freestyle, foil,…)?
When I go kite it's always to clear my mind, have a good time, purify myself, recharge my batteries and above all have a lot of fun. I always feel better and more relaxed after a kite session, just like when I go surfing or longskating. As for landkiting, I feel more like a freerider, I love devouring miles on large wild beaches or deserts with my mountainboard. Of course I always had this other parallel activity which is speed, it was always the most exciting thing I could do in Landkite. On the water it's a little bit the same I love to travel long distances whatever the conditions, I like the Tiki too but my predilection is still surfkiting. Waves are really something that plays a major role in my life.
You are the man behind the World Speed Landkiting Project, can you tell us more about this subject?
Well, speed in landkite has always been for me something very exciting, very important. As an immense quest, as an absolute that I could neither reach nor even identify at first, but I just had to do it to exist, to feel alive and fulfilled.
From the beginning it was a real passion. And discipline, it is true, has never attracted crowds because it is too committed. Even if there have always been a few attempts, it has always been a bit innocuous. And as you know, I'm a bit of a wild person, I've never taken a license in a club in my life, competition I only live it by and against myself. I am my biggest competitor and that was the problem. So I had to find a way to try to federate this activity. And it was through social networks that I was able to share my passion with as many people as possible and hope to generate interest. That's how I created this WSLP page, to put on electronic paper this quest for speed, not to go back in history but to inscribe it in history as an existing practice, simply.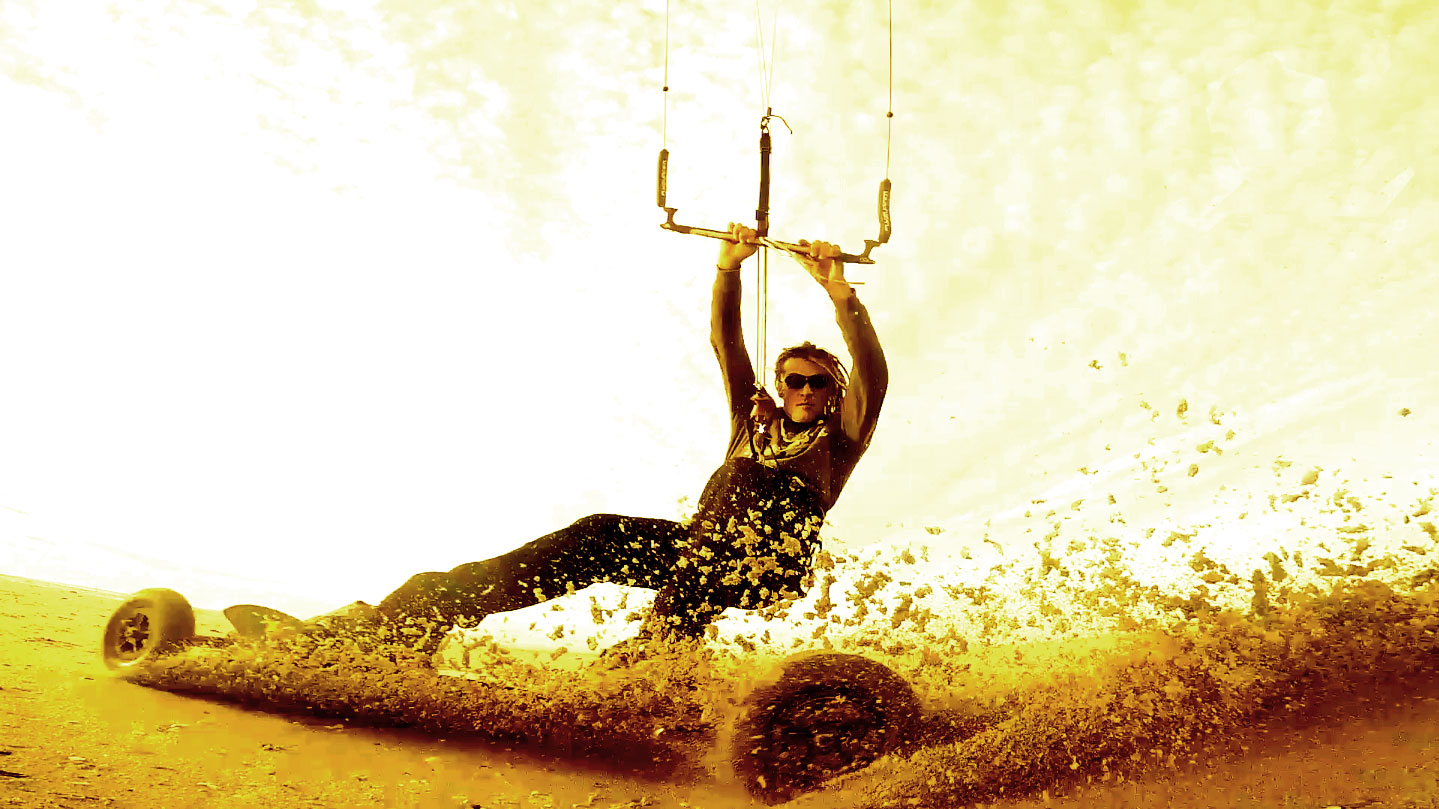 You recently broke the world speed record in landkite. I think you've passed the 100 km/h mark, it's crazy! Can you tell us more about this record (on which spot did you break the record? Under what conditions)?
It was in La Franqui (Leucate), a large playground with the names of a world famous spot: the Rouet and the Coussoules, which form only one playground for me when the conditions are right. The wind is often very strong and ideally oriented. And for this winter season I had 8 weeks left before leaving for the American desert. El Nino had been strong this year, so I expected to have optimal conditions on the drylakes. But first I had to try my luck on the best European spot. At the end of December the forecast was 35/55 knots, there were actually 10 more knots, it was Dantean, in other words ideal. I was very lucky because there had been a lot of rain in the late season and the pond of La Palme was full, the wind was pushing the water from the ponds towards the playground which was often too greasy or even flooded. The state of the field of play is changing so quickly that I had to be there twice a day to seize the opportunity. I had been testing almost every day for several weeks now. Despite a preliminary survey (which I still do) on December 30 I had a big crash. I arrived at maximum speed on a soft area, the mountainboard crashed, I went into a spin, fortunately the kite didn't go in a loop, just one more scar (despite the protections). My knee hit the ground so hard that my leg should have come off the floor. Still limping, 3 days later on January 2nd, I was finally able to read on my two gps a 3 digit value.
Did you expect to break this record? And how long or how many years has it been running behind this record?
From the beginning of my practice in 99 I was attracted to speed but it is really only in the last ten years that I have been doing this more seriously. I had set myself a goal with a round number to reach: 100 km/h, and with a standard board. For a few years I undoubtedly believed in it, then the more I progressed, the slower the progress became and everything became much more difficult. So I didn't really believe it anymore, and then again I thought it was possible and the doubt came back to me, and then I regained my confidence etc. I had to get there; but I knew it was going to be very difficult. This was the case.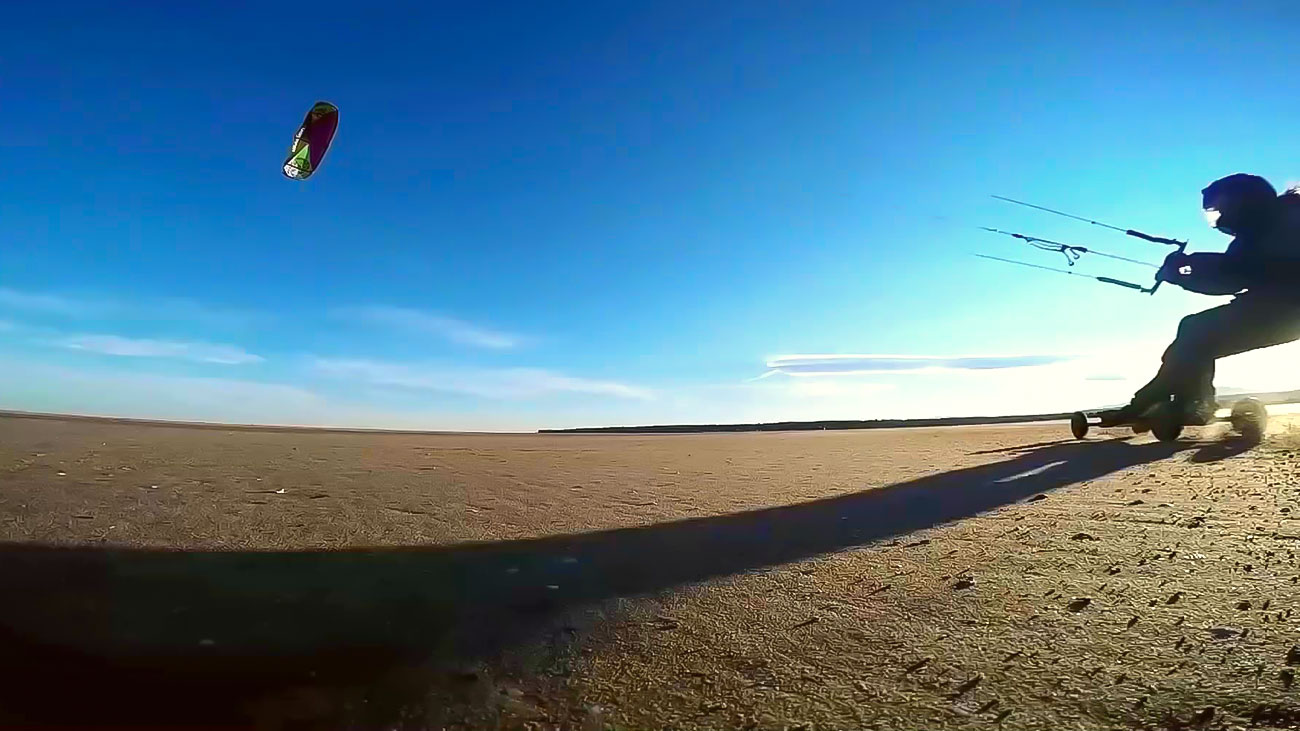 How are you preparing to break this record? Do you train abroad?
I didn't have enough 45 knots to break this record. So imagine what kind of physical condition you have to be in just to take off your kite in a higher wind, you don't come here by chance to do a little cruising. You have to be physically ready, and have sharp reflexes. You must be 400% and with concrete legs. To do this, it is necessary to practice perpetually, again and again, to keep up the level. Your body must be ready or it's an accident. Morale must be high with a strong will to succeed. I know this too well because it happened to me several times over all these years to arrive on the spot, then to leave again because I was not enough there in my head. In short, the optimization of several key factors to put all the chances on my side.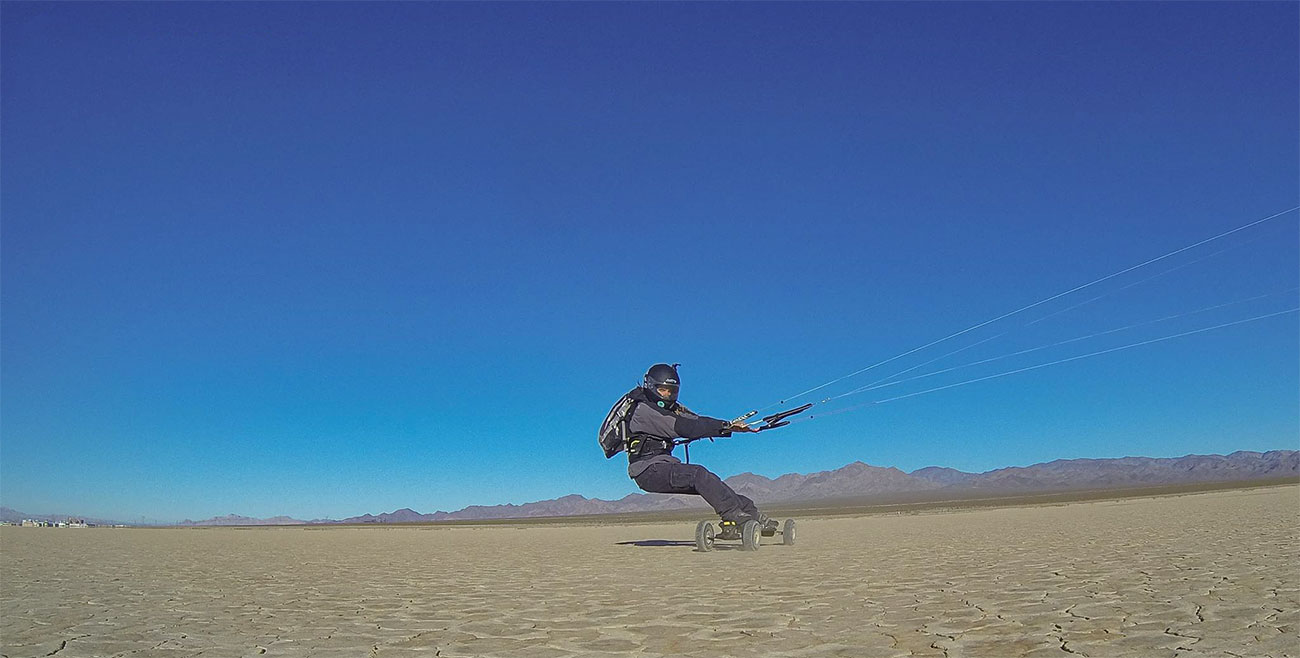 Did you use any particular equipment to break this record or do you use standard equipment?
Exclusively standard equipment, that was the goal, and that's what made the challenge much more difficult. We worked very hard with Skully, the boss X-Shape, to find the best compromises to get the most efficient mountainboard possible. The tests were conclusive from the first tests, and this is what allowed us to validate the new X-Shape series board dedicated to speed: the Speedcore Akkrew Promodel. I use Matrix 2 Pro trucks from MBS, which I have put on 12-degree Bolzen pads to gain wheelbase and 8-inch slicks, the MBS roadies. The kite, Flysurfer Boost 7m.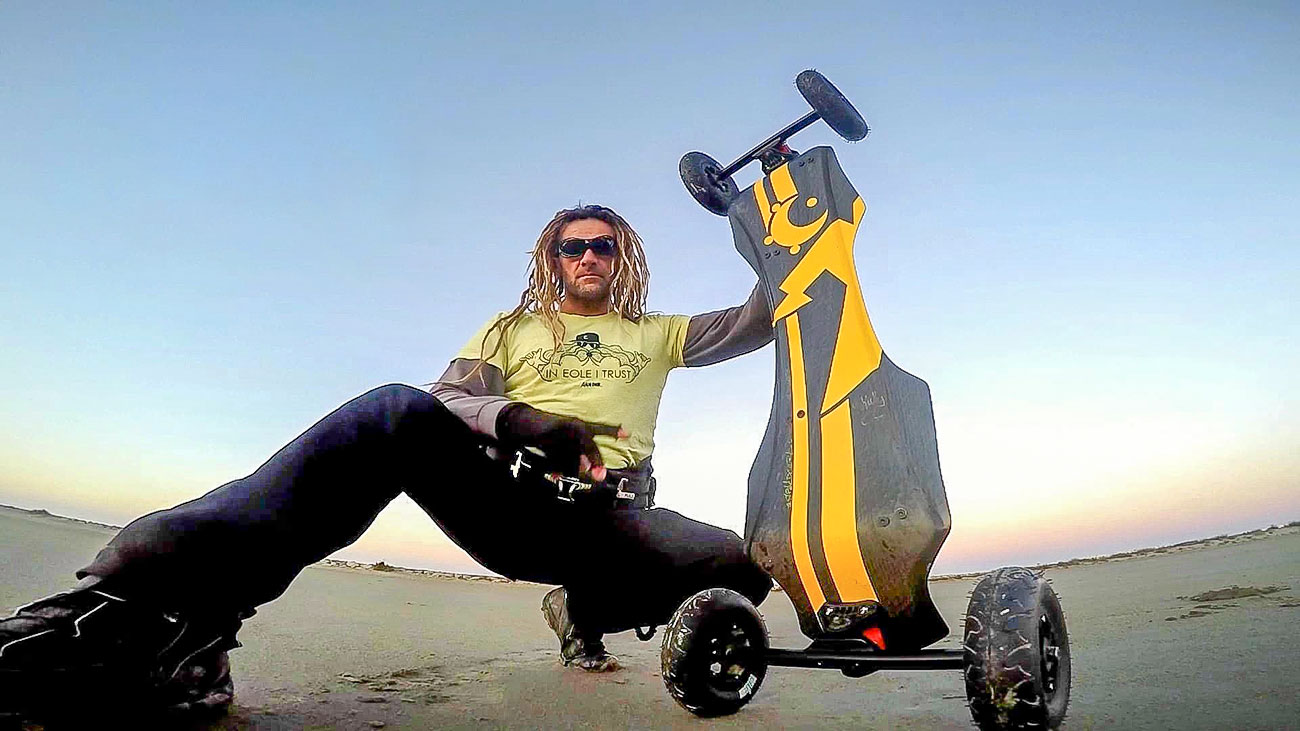 What is kite for you? A sport? A lifestyle? Other?
Like surfing, it is not a practice I am ready to stop, it is an integral part of my life. It represents so many things at once: it is first of all a passion, it is also a medicine, it has become a lifestyle, but it is also an outlet, a lifestyle, a sport. Actually, it means a lot to me. My whole life is organized around sliding sports and the ocean.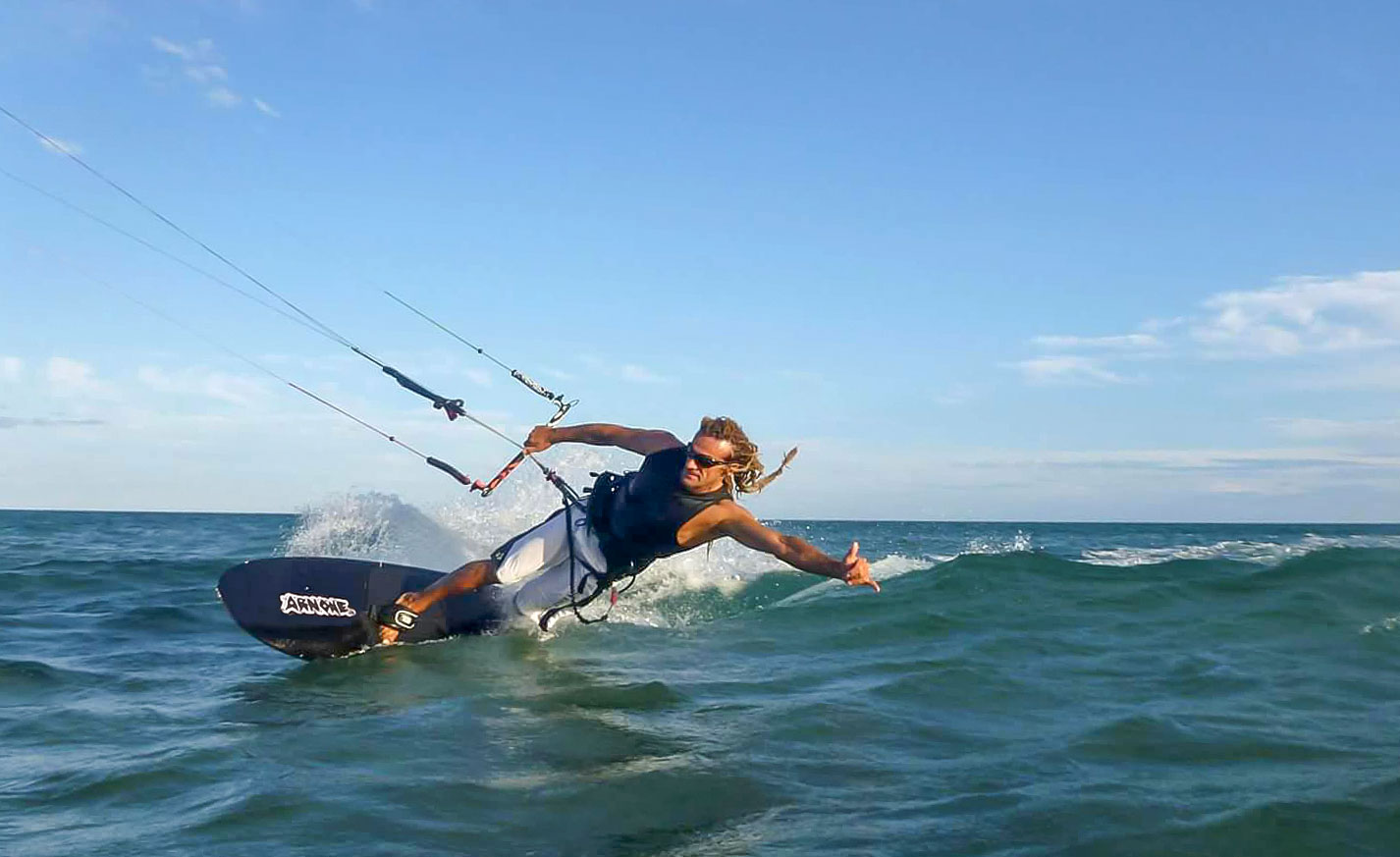 Can you tell us about your best kite session (all disciplines combined, i.e. your best landkite or kitesurfing session or other)?
It is very difficult to answer them. There is no better session or rather there have been so many that it is impossible for me to keep a single session in mind as the best. During a session, it is always an accumulation of details that makes this day stay in my mind. The wind blowing in the grass on the dunes, the sand flying, the color of the water translucent, a melody in my mind, the surrounding landscape. Not necessarily an adrenaline session where the conditions are extreme. For example, I spent a few years riding the morning breeze on the miles of sandbanks at low tide on Oléron, when it's quiet, there's no one there, before human activities begin. And when I say that, I think of a surfkite session in California where there was 5 m of swell, imagine the 10 m high water walls coming on you. I was scared, it was way beyond my level. I took a few waves but I never managed to get really good inside. This session also left me with an unforgettable memory.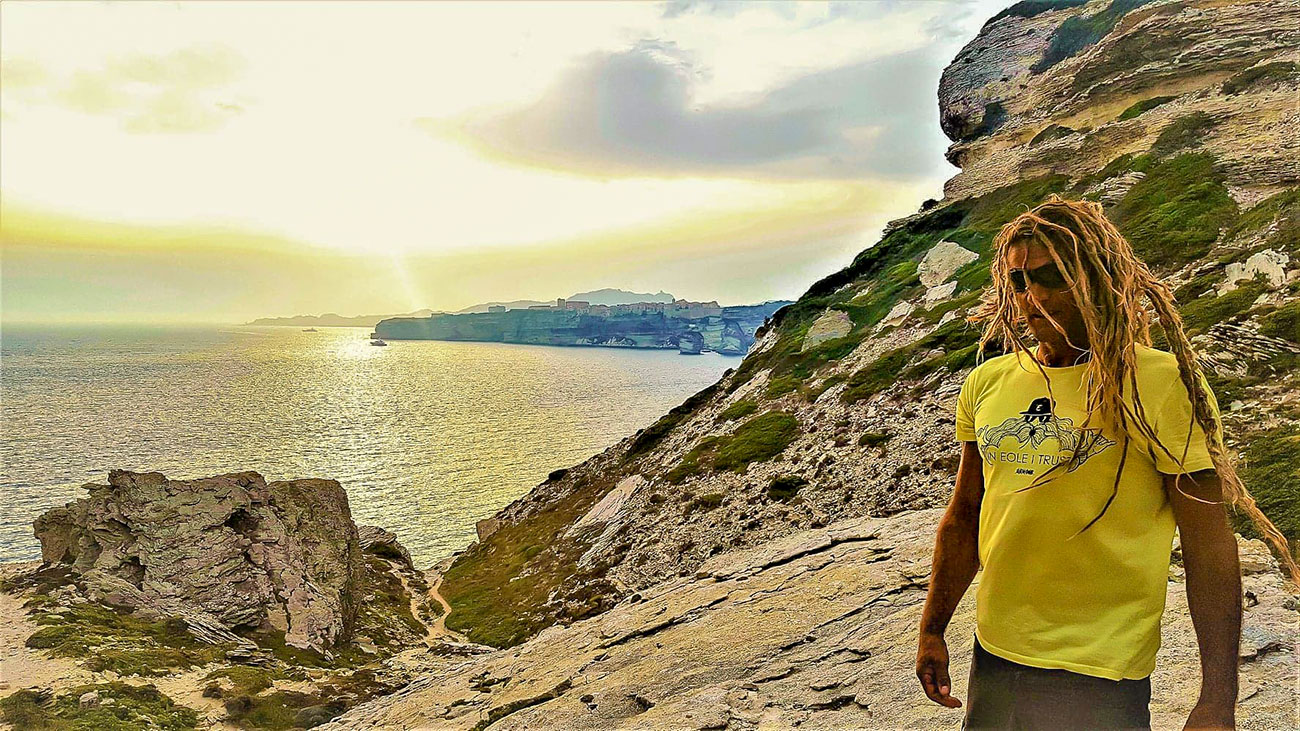 What are your future projects (related to kitesurfing)?
I plan to kite all my life, but also paddle surfing skateboarding. lol. More seriously, I'm working on a landboard prototype to try to improve my performance, so I can't say any more at the moment. work in process.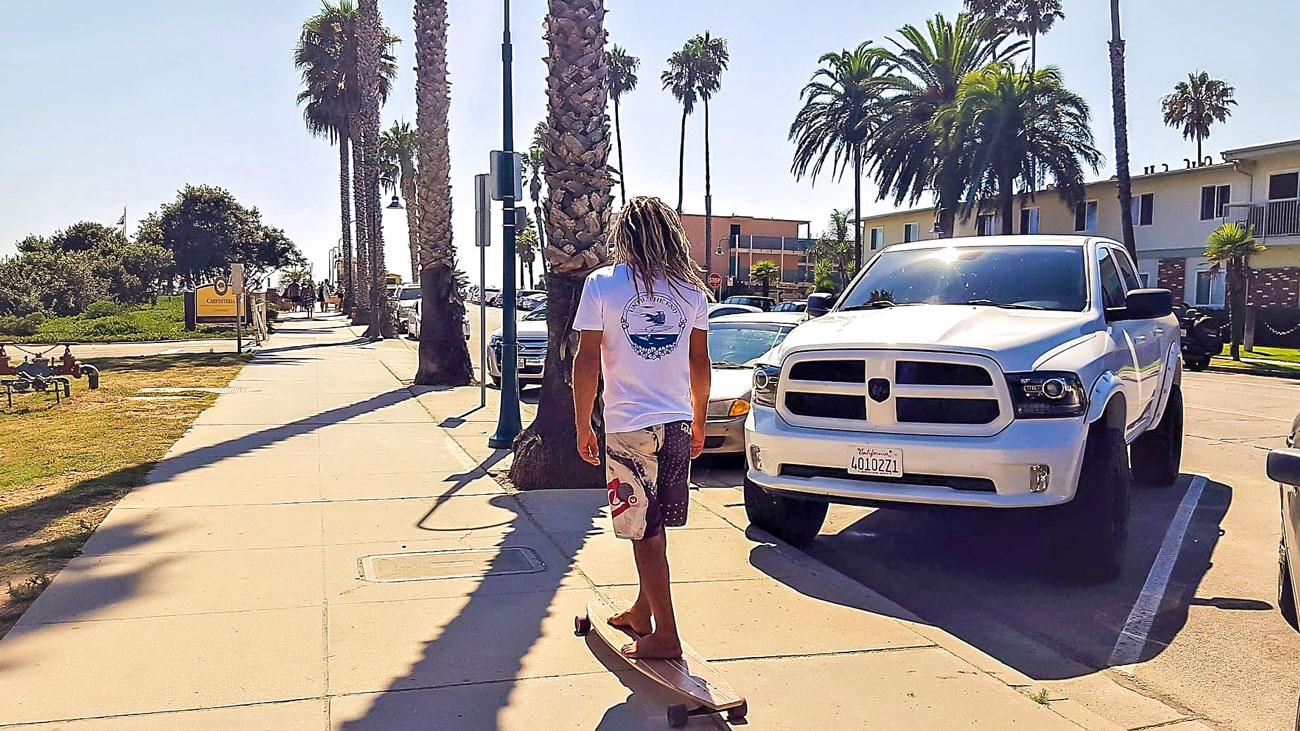 Anything to add? (thank you? closing remarks? a message to be sent?)
Thank you Arnone for your incredible support and for your more ecological vision of what perhaps a clothing brand, I am proud to represent these values. I thank all my other sponsors who believed in me and supported me all these years. Special dedication to X-Shape who has been able to get involved in creating mountainboards oriented race and speed. And since you give me the opportunity, I couldn't finish this interview without sharing with you some of my feelings about our behaviour. Our current lives are full of hobbies, it's great we have a good laugh, and that's good. But our evolution has led us to the establishment of a comfort based on the navel-gazing that we enjoy while remaining well in the shadow of our ego. Making us forget, sacrifice, hide, the very meaning of our raison d'être, and especially the way we manage the world. We have lost reason, at such a level, that we are aware that we are obscuring what our conscience tells us about what is right to do for the good of humanity. We prefer our comfort. Let's start by stopping the use of plastic. Let's stop the plastic.